GM700S
Eat, Test, Live
The GM700S is a premium meter featuring FAD-GDH reagent technology to minimize oxygen interference and keep you updated with results you can trust. This meter is suitable for use across a wide HCT-range and comes with helpful meal markers to keep you as informed as possible.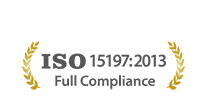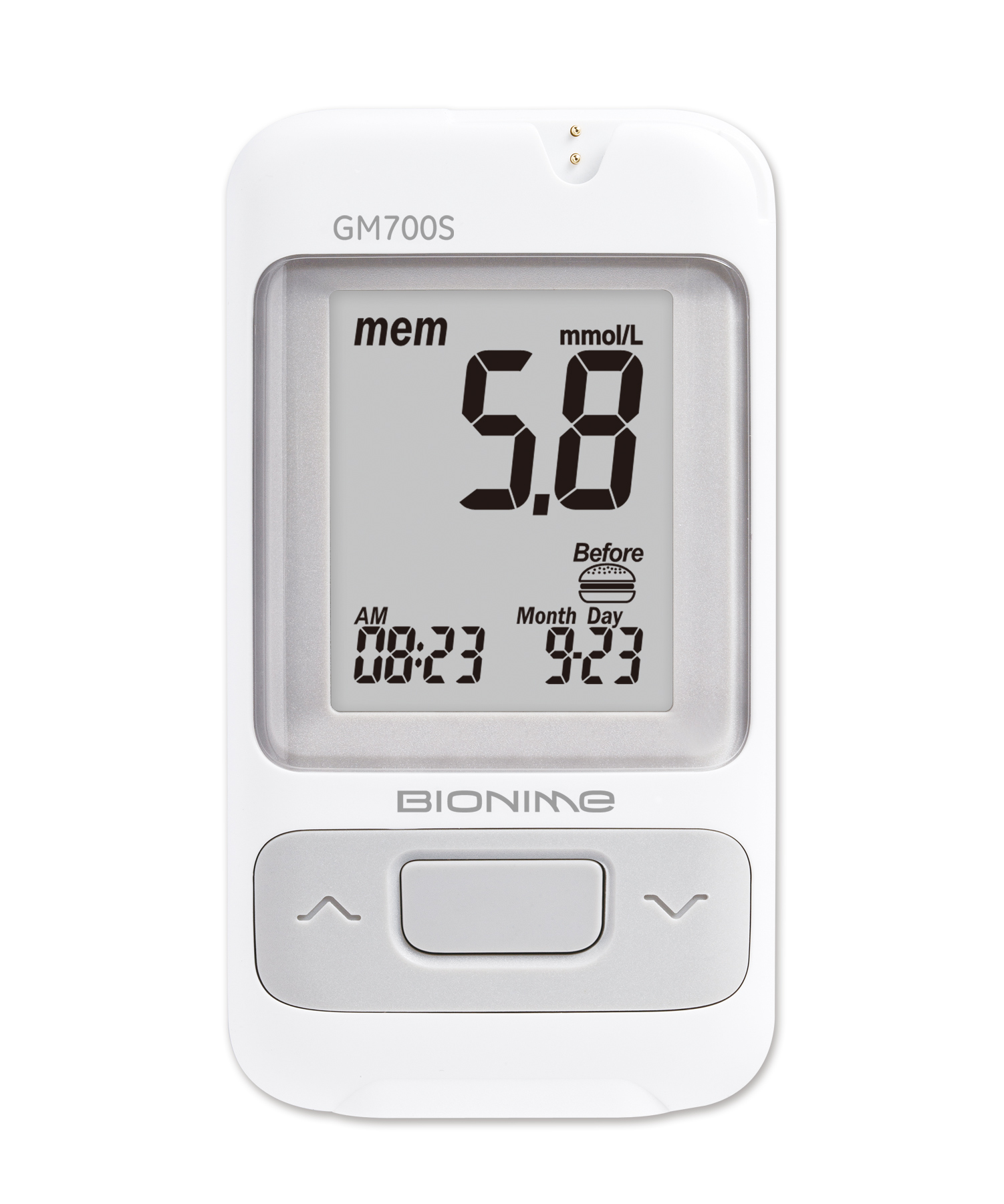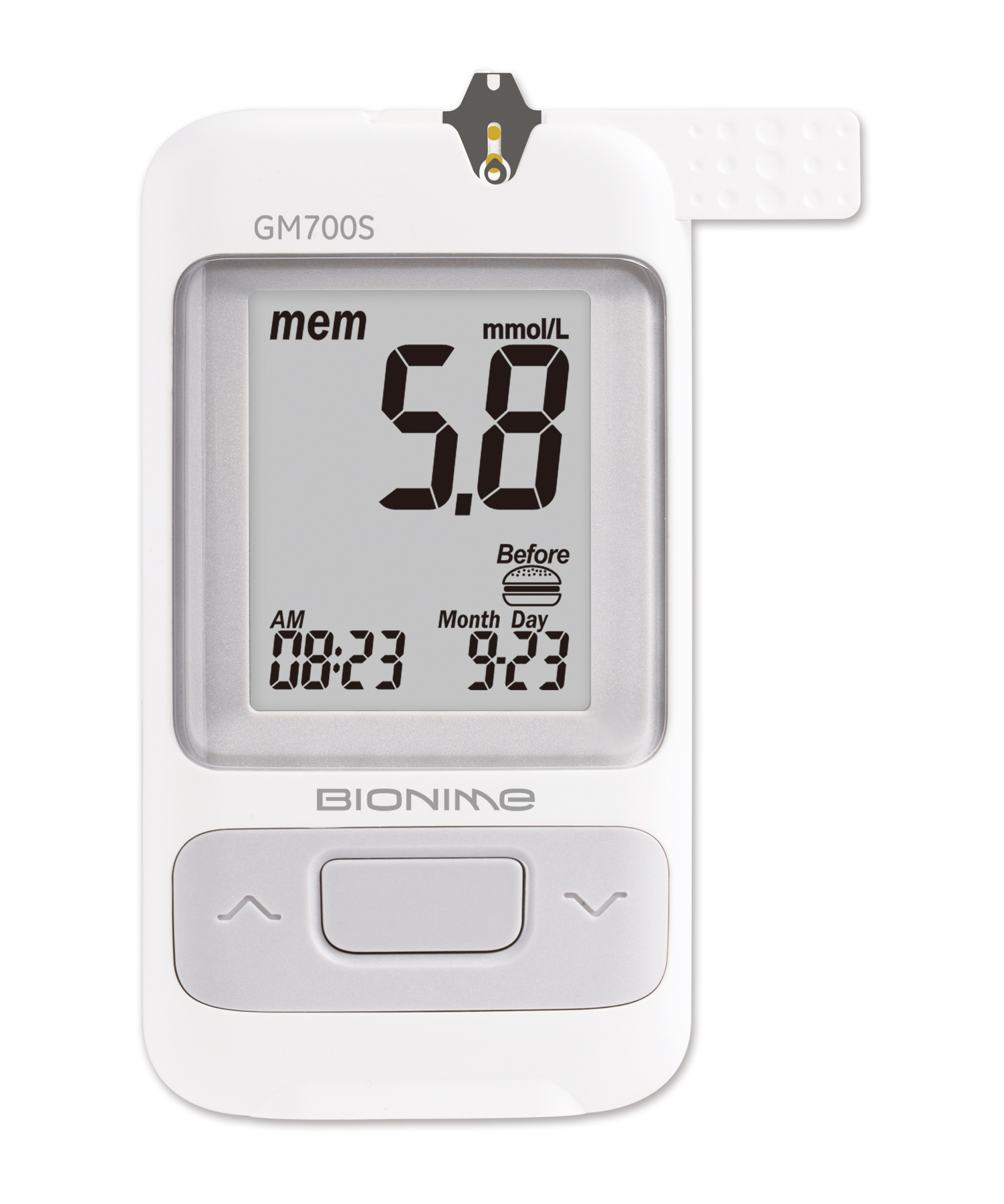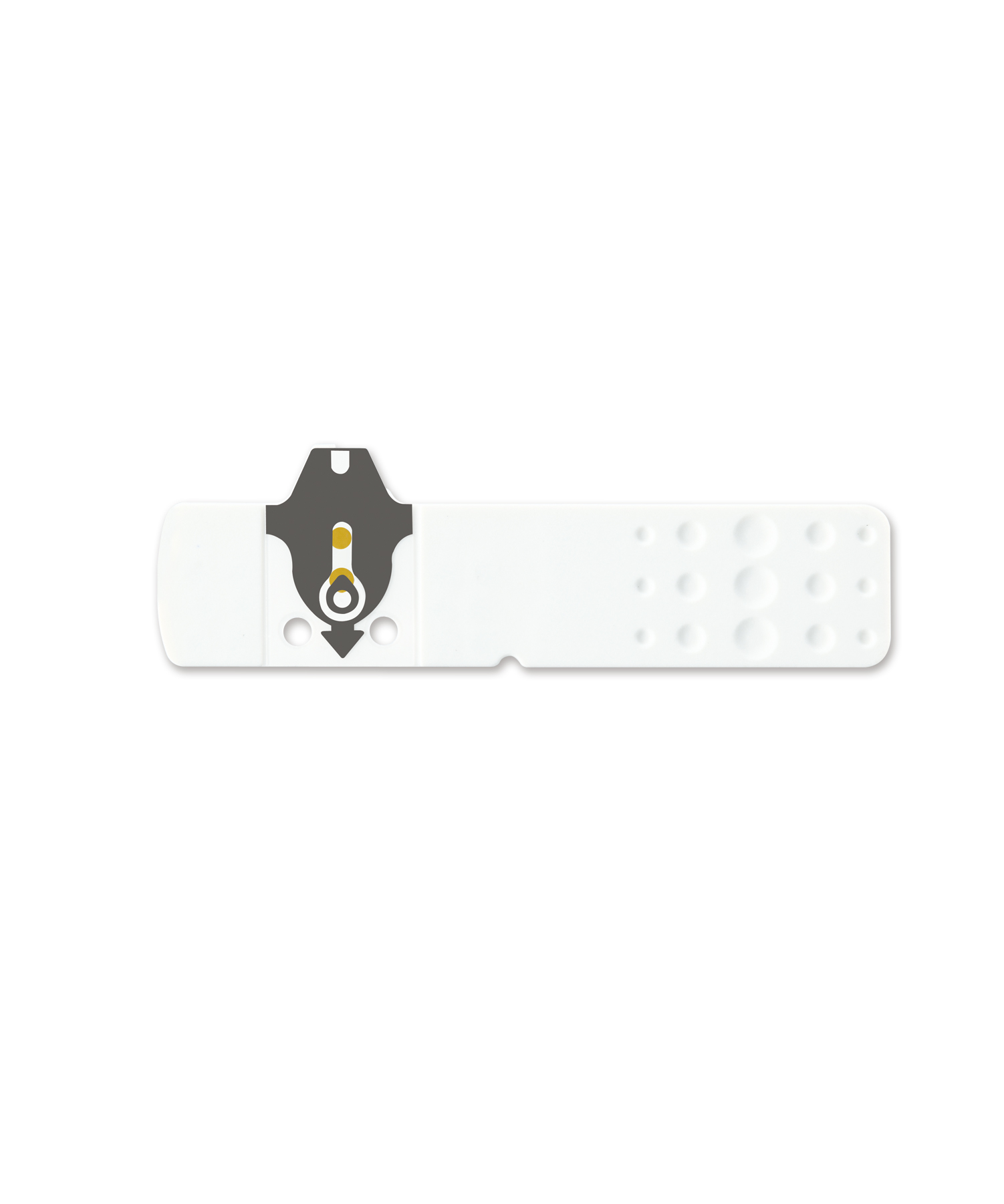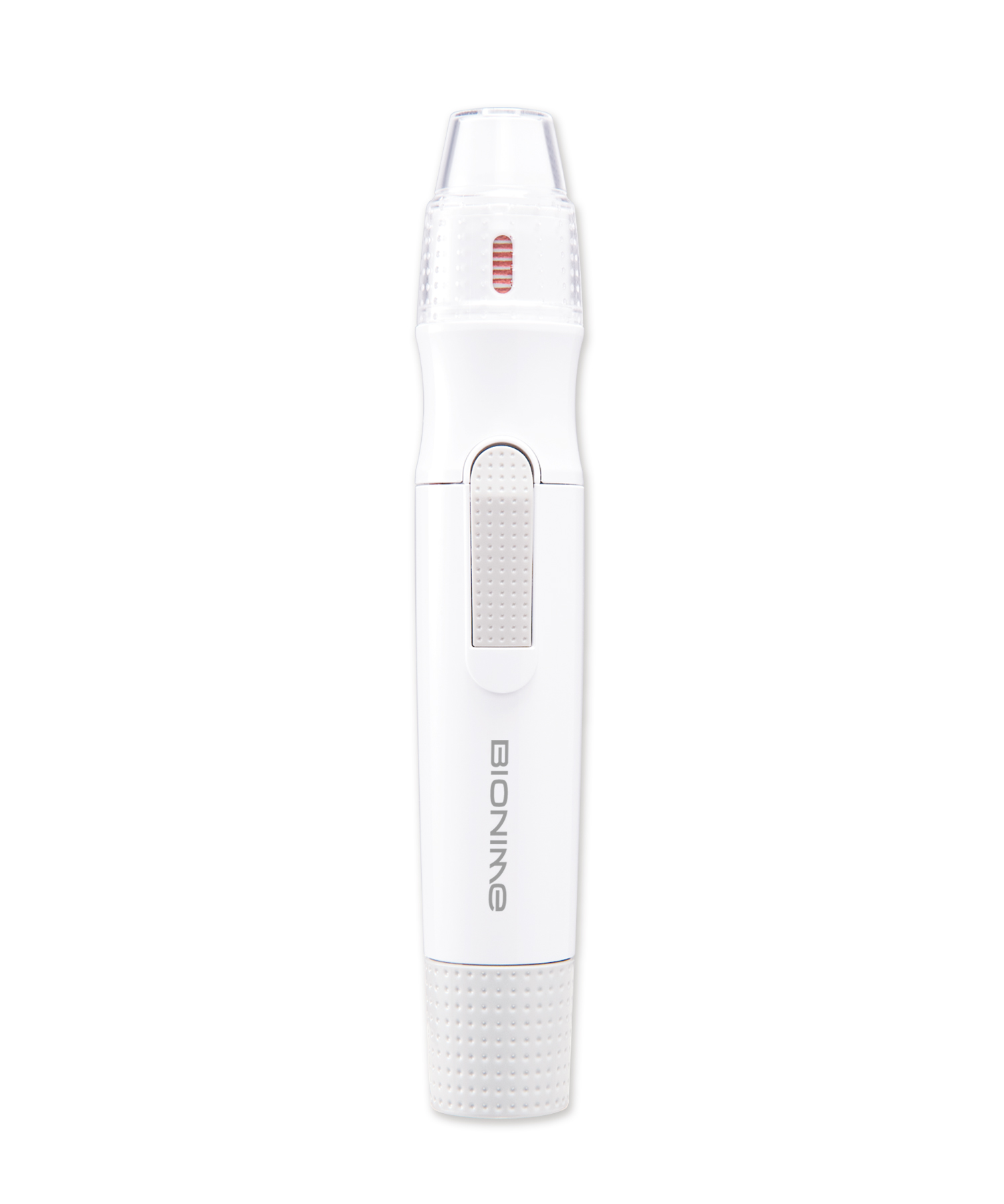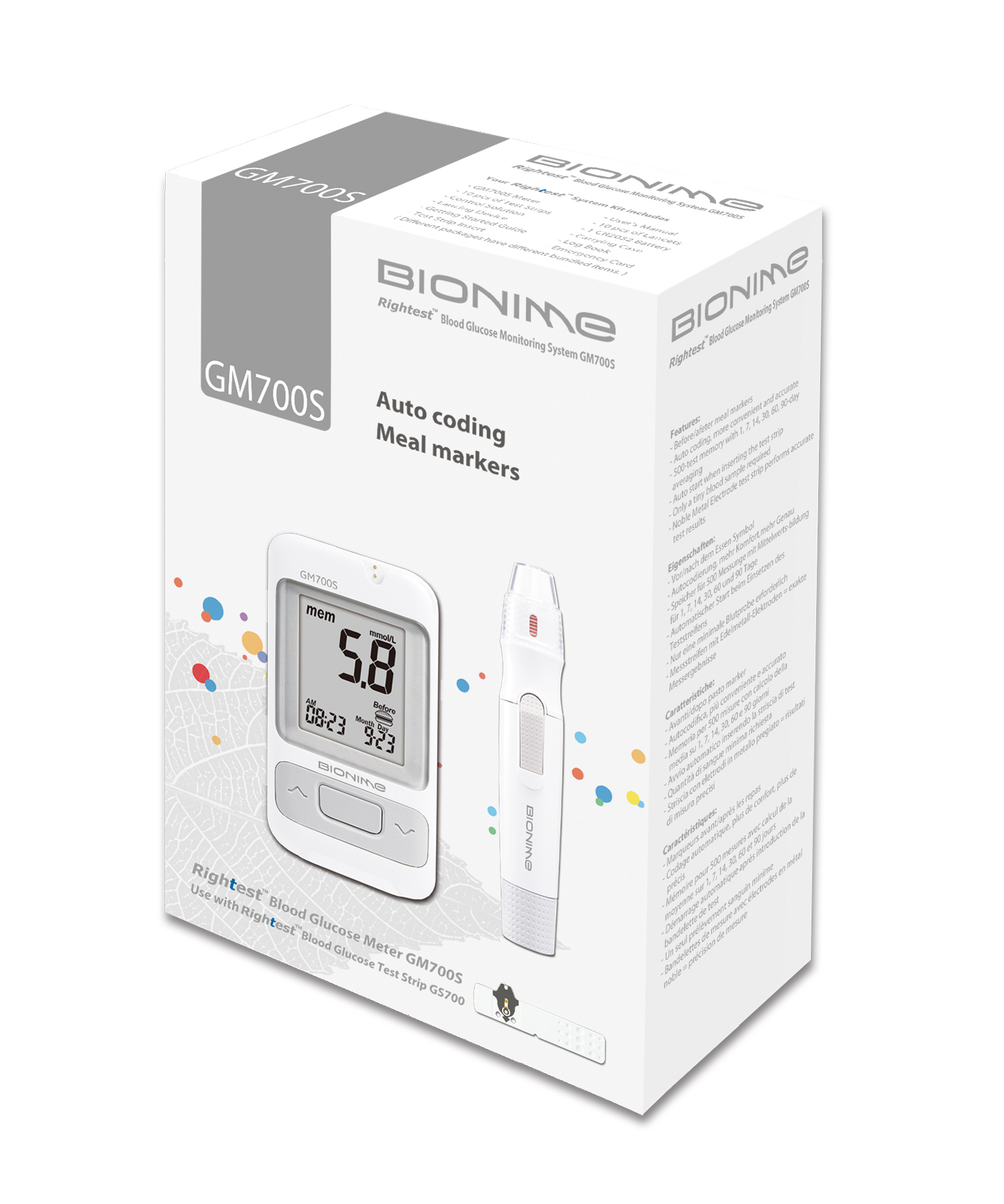 Wide HCT range

Measures glucose value of extreme hematocrit range, like neonate, elder, anemia patient.

Meal markers

Before-and-after meal markers help you know how food influences your blood glucose.

Multiple blood sample

Capillary, venous, arterial and neonatal whole blood are applicable.

Auto coding

Eliminates the needs for manual coding and delivers better accuracy than no coding.

Proprietary Rightest

™

strip

With Validus Technology™ strip design, Rightest™ strips ensure high accuracy and precision in readings.

Blood contact prevention

Larger, thicker test strips help with dexterity issues. The innovate side-insert design ensures better hygiene.
How it works
1

Insert the strip in the socket of the meter, which will do calibration automatically.

2

Place blood sample against the sample entry of strip.

3

After 5 seconds, the test result appears.

4

Rotate and pull up the test strip.
GM700S Specifications
Test strip
GS700
Coding
Auto coding calibration
Enzyme / Measurement technology
GDH / Electrochemical sensor
Blood sample source
Capillary, venous, arterial and neonatal whole blood
Minimum sample volume
0.75 microliters (0.00075c.c.)
HCT range
Glucose concentrations ≦ 200mg/dL, HCT range 20 - 70%
Glucose concentrations > 200mg/dL, HCT range 20 - 60%
Measuring range
10 - 600mg/dL (0.6 - 33.3 mmol/L)
Meter dimensions (L x W x H)
82.0 x 45.0 x 15.5 mm (3.22 x 1.77 x 0.61 inch)
Display area (L x W)
34.0 x 27.5 mm (1.09 x 1.34 inch)
Weight (with battery)
43.0 ± 5 g
Power supply
1 CR2032 battery
Memory capacity
500 blood glucose test results with date and time
Operating temperature
6 - 44℃ (43 - 111°F)
Operating relative humidity
10 - 90%
Meter storage conditions
-10 - 60°C (14 - 140°F)
Test strip storage conditions
4 - 30°C (39 - 86°F), < 90% relative humidity
Accuracy
95% of the measured glucose values shall fall within either
Glucose concentrations < 5.5mmol/L (100mg/dL), difference within ± 0.83mmol/L (15mg/dL)
Glucose concentrations ≥ 5.5mmol/L (100mg/dL), bias within ± 15%
Precision
Glucose concentrations < 5.5mmol/L (100mg/dL), SD < 0.28mmol/L (5mg/dL)
Glucose concentrations ≥ 5.5mmol/L (100mg/dL), CV < 5%
Fully comply with ISO 15197:2013 (For other received credentials, please contact us.)